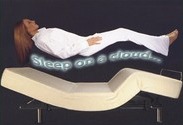 ErgoMotion Weightless Sleep System.
The ErgoMotion adjustable base has several advances over other models. Some of the most notable features are the wall-tight lift motion, the independent head and foot lift, and the built in massage features. You may be asking what makes this adjustable base so unique, and the answer is simple. The ErgoMotion adjustable bed can operate without legs, meaning that you can install the ErgoMotion into a slatted or platform bed frame without worry. The Zero-Gravity feature is a simple one-button adjustment to raise both the head and legs simultaneously to a neutral body position, giving you the feel of weightlessness.
The wall-tight lift method keeps your head and the head of the mattress near the wall for convenience and safety. With no large gap between the wall and the bed, you have less of a chance for children or pets to become trapped and possible injured. You also have easier access to your nightstand or bedside table.
Every great adjustable bed must have a great warrantee for your peace of mind too. ErgoMotion has a four-stage 20 year warrantee to back up their products. In the first year, 100% of parts and labor are covered for defects in material and workmanship. In the second year, 100% of motor parts are covered including shipping, years 3-5 have parts-only covered, and years 6-20 are pro-rated starting at the 6th year.
No person can sleep on an adjustable bed base alone, and why should you? Most people spend far more on their cars for 5 years of ownership then they do on their beds for 30 years or more of service! With our great selection of memory foam mattresses from SelectaBed.com, there is no need to own a mattress which rivals the cost of your adjustable bed base, or even worse, one which will cost you sleep rather than increasing your productive sleep cycles. Click here for more information on the mattresses we have to offer.